AFFF Cancer Lawyers Reviewing Claims For Firefighters Diagnosed With Testicular Cancer and Kidney Cancer
The product liability lawyers at Saiontz & Kirk, P.A. are reviewing potential claims for firefighters and other individuals diagnosed with cancer following exposure to dangerous chemicals in fire suppression foam, which has been commonly used at military bases, airports and by firefighters in recent decades.
Contact Our Lawyers To Review an AFFF CANCER LAWSUIT
*By submitting, you authorize Saiontz & Kirk, P.A. to send text messages to the numbers provided, including information & offers, possibly using automated technology. Message/data rates apply. Consent is not a condition for acceptance of services.
Aqueous film-forming foam (AFFF) was introduced in the 1960s, and has been widely used during training exercises and to fight fuel-based fires. However, this fire foam contains large amounts of per and polyfluoroalkyl substances (PFAS), which are considered by many scientists to be toxic and carcinogenic chemicals.
Financial compensation and settlements may be available through an AFFF cancer lawsuit for firefighters, airport personnel and military service members diagnosed with:
Testicular Cancer
Kidney Cancer
Prostate Cancer
Pancreatic Cancer
Breast Cancer
and other Diseases
There are never any out-of-pocket costs associated with hiring our firefighter foam lawyers to investigate or review your claim, as we only receive an attorney fee or expenses if a recovery is obtained for you and your family. Request a free consultation and claim evaluation to determine whether you or your family may have a case.
AFFF Exposure Risks
Aqueous film-forming foams (AFFF) are specifically designed for use against petroleum-based fires, where water is less effective. Most of these firefighting foams contain dangerous and toxic PFAS chemicals, which are known to accumulate in the body, no matter how small the exposure.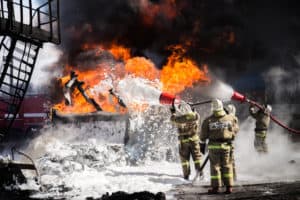 PFAS chemicals in firefighting foam have not only been linked to a potential increased risk of cancer, but may also result in an increased risk of neonatal death, liver toxicity, immune system problems and disruption of the human endocrine system.
In 2016, the military warned that there could be potential problems near 664 different military sites where AFFF was commonly used during training exercises, where the chemicals may have contaminated water supplies in surrounding communities.
These chemicals have a hard time breaking down in the environment and can persist for an extremely long time, gaining them the nickname "forever chemicals."
It appears from numerous reports that the manufacturers of these substances knew or should have known about their health and environmental risks for decades. However, it appears they placed profit over public safety and even the safety of first responders and military personnel.
For individuals diagnosed with cancer following direct exposure to AFFF, such as firefighters, military service members and airport personnel, financial compensation may be available.
PFAS Drinking Water Exposure Risks: 2022 Update
Following recent discoveries that have identified more than 2,800 residential and military sites that are highly contaminated with PFAS chemicals released from AFFF foam run-off and manufacturing plants, a growing number of water contamination lawsuits are now being pursued by residents and former military personnel and their families.
The PFAS water contamination lawsuits claim individuals developed ulcerative colitis or cancer from years of exposure to toxic PFAS chemicals being dumped into groundwater, drinking water and soil that contaminated public and private water supplies.
The lawsuits allege manufacturers knew, or should have known that individuals could develop cancers and inflammatory bowel disease as a result of consuming high volumes of PFAS chemicals in their local tap water caused by the dumping and natural run-off of PFAS used in firefighting foams and manufacturing plants.