AFFF Lawyers Review Firefighting Foam Cases Nationwide
The product liability lawyers at Saiontz & Kirk, P.A. provide free AFFF lawsuit consultations for individuals throughout the United States who have been diagnosed with cancer that may have been caused by side effects of chemicals in AFFF (Aqueous Film-Forming Foam).
This fire suppression foam has been used for decades at military bases, airports and by civilian firefighting organizations during training exercises and in response to fuel-based fires, which can not be controlled by water alone. However, firefighters were not warned about dangerous chemicals that are known to accumulate in the body and may cause a risk of cancer or other disease.
Financial compensation may be available through a
firefighting foam lawsuit
for individuals diagnosed with:
Testicular Cancer
Kidney Cancer
Pancreatic Cancer
Prostate Cancer
Breast Cancer
Liver Cancer
Bladder Cancer
Thyroid Cancer
Thyroid Disease (Hypothyroidism or Hyperthyroidism)
Graves Disease
Hashimotos Disease
All AFFF lawsuit cases are pursued by our lawyers under a contingency fee agreement, which means that there are never any out-of-pocket costs to hire our law firm and we only receive an attorney fee or expenses if a firefighter foam lawsuit settlement or recovery is obtained for you and your family.
Call 1-800-522-0102 or request a free case evaluation to get started today!
2023 Firefighting Foam Lawsuit Update
As of June 15, 2023, nearly 4,800 AFFF foam cancer lawsuits have been filed throughout the federal court system, including firefighter cancer lawsuits and water contamination lawsuits being pursued against manufacturers of the firefighting foam.
U.S. District Judge Richard M. Gergel is presiding over all pretrial proceedings in the District of South Carolina, as part of an MDL or multidistrict litigation.
The first firefighting foam bellwether trial was expected to begin in mid-2023, involving claims brought by a local water supplier. However, the case was continued amid continuing settlement negotiations.
If firefighter foam lawsuit settlements are not reached in the near future, it is expected that the Court will schedule a series of injury claims for trial to help gauge how juries are likely to respond to certain evidence and testimony that will be repeated throughout the AFFF litigation.
Firefighting foam lawyers are still investigating and pursuing new AFFF lawsuits for firefighters diagnosed with testicular cancer, kidney cancer, pancreatic cancer, prostate cancer, breast cancer, liver cancer, bladder cancer, thyroid cancer and various thyroid disease following exposure to PFAS chemicals in AFFF products.
---
June 2023 AFFF Lawsuit Update: An AFFF lawsuit filed by the City of Stuart, Florida was set to go before a jury this month, involving allegations that AFFF manufacturers should be held responsible for damages associated with widespread water contamination. However, the start of the trial was postponed amid PFAS/AFFF settlement negotiations. If an agreement is not reached to resolve large numbers of cases, it is expected that a group of personal injury cases will be selected for a second round of bellwether trials later this year.
October 2022 AFFF Lawsuit Update: An AFFF foam lawsuit over water contamination in Stuart, Florida has been selected for the first bellwether trial, which will go before a jury in June 2023 to help the parties gauge how juries are likely to respond to certain evidence and testimony that will be brought against the manufacturers of firefighting foam and toxic PFAS chemicals.
September 2022 Lawsuit Update: Judge Gergel has denied an attempt by 3M Company to escape liability in AFFF foam lawsuits under a government contractor defense, finding that the manufacturer failed to disclose information to the U.S. government or scientific community about the risks associated with PFAS chemicals in the firefighting foam. This important ruling will allow thousands of claims to move forward and hold the firefighting foam manufacturers accountable for placing profits before the safety of firefighters and others.
---
AFFF Lawsuit Frequently Asked Questions
Who Are The Defendants In The AFFF Lawsuit?
Defendants in AFFF lawsuits are typically manufacturers of aqueous film forming foam products, firefighting foam distributors, and other related entities. Some of the most commonly named defendants in lawsuits have included 3M Company, DuPont, Tyco Fire Products and other manufacturers.
Who Qualifies For The AFFF Lawsuit?
Individuals who have suffered injuries or damages due to exposure to AFFF exposure may qualify for the AFFF lawsuit. This includes firefighters, military personnel, airport workers, and others exposed to the firefighting foam.
What Is The Statute Of Limitations For AFFF Lawsuits?
The statute of limitations for AFFF lawsuits vary by state, but it generally starts from the date of discovery of injuries or damages caused by AFFF exposure. Because time limitations vary, it is crucial to take legal action promptly.
What Are The Expected AFFF Lawsuit Settlement Amounts?
The expected settlement amounts for AFFF foam lawsuits can vary significantly depending on the extent of injuries, damages, and the strength of the evidence presented. Each case is unique, and lawsuit settlement amounts are determined on a case-by-case basis.
Who Can File a Firefighting Foam Lawsuit?
Individuals who have been harmed by exposure to firefighting foam can file an AFFF lawsuit. This includes not only firefighters or military personnel, but also civilians and workers who were exposed to the toxic firefighting foam and suffered adverse health effects.
---
AFFF Fire Fighting Foam Health Risks
Aqueous film forming foam was first introduced in the 1960s and designed specifically for use on petroleum-based fires where traditional water suppression alone would be ineffective and inadvisable. They have been in use for decades by both military and civilian firefighters in response to Class B fires.
Does Firefighting Foam Contain PFAS?
AFFF firefighting foam does contain chemicals known as poly- and perfluorinated alkyl substances (PFAS), which include perfluoroctanesulfonic acid (PFOS) and perfluoroctanoic acid (PFOA).
These firefighting foam chemicals have been found to bind to proteins in the blood, as well as leach into drinking water supplies and into the soil. They are not biodegradable and are projected to take thousands of years to degrade, earning the nickname "forever chemicals".
Prior to the use of PFAS in AFFF, the chemicals have not been widely found or detected in the human body. However, the fire foam chemicals are toxic and carcinogenic chemicals that have been linked to a number of health effects, including liver damage, thyroid disease, decreased fertility, high cholesterol, obesity, hormone suppression and cancer.
AFFF manufacturers knew or should have known for decades that PFAS chemicals may persist over long periods of time and accumulate in the body of firefighters and others who come into contact with the chemicals, yet warnings do not adequately disclose the unreasonable risk of PFAS exposure on the human body.
What Type of Cancer is Caused by AFFF?
AFFF has been linked to various types of cancer due to its exposure to certain toxic chemicals, particularly PFAS. Exposure to firefighting foam containing PFAS has been associated with the following types of cancers:
Testicular Cancer
Kidney Cancer
Pancreatic Cancer
Prostate Cancer
Breast Cancer
Liver Cancer
Bladder Cancer
Thyroid Cancer
Hodgkin's lymphoma
Leukemia
It's important to note that research into the health effects of AFFF exposure is still ongoing, and the potential link to cancer may vary depending on factors like the duration and intensity of exposure.
If you believe you have been exposed to AFFF and are experiencing health issues, it is essential to consult with a healthcare professional and seek legal advice to understand your options.
Cancer Diagnosis from Exposure to Firefighting Foam May Have Been Prevented
PFAS chemicals in AFFF foam are known to persist over extremely long periods of time, accumulating in the body of individuals exposed, regardless of how small the contact. As a result, individuals may face long-term health risks.
Who Is At Risk For Exposure To Firefighting Foam?
Individuals who are at risk for exposure to firefighting foam include but are not limited to:
Firefighters
Airport Personnel
Military Service Members
Industrial Workers
Emergency Responders
AFFF Firefighting Foam Cancer Risk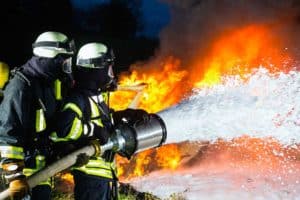 Fire Foam Manufacturers
Manufacturers responsible for the development of cancer among firefighters and military personnel may include:
3M Company
Tyco Fire Products, L.P.
The Ansul Company
National Foam, Inc.
Buckeye Fire Equipment Co.
Chemguard
E.I. Dupont De Nemours & Co. (f/k/a Dow Dupont, Inc.)
Dynax Corporation
The Chemours Co., LLC
Chubb Fire, Ltd.
Corteva, Inc.
Kidde-Fenwal, Inc.
United Technologies Corporation
UTC Fire & Security Americas Corporation, Inc. (f/k/a GE Interlogix, Inc.
Arkema
Angus Fire (a/k/a Angus International)
Dynax Corporation
PFAS in toxic firefighting foam are entirely human-made chemicals, and were not widely detected in the blood of humans before the commercial development of the firefighting foams.
For decades, studies have found that exposure to PFAS can cause tumors in animals. As a result, scientific principals should have led AFFF manufacturers to recognize the potential link between AFFF foam and cancer in humans, since the precise mechanism of action was never confirmed in animal studies. However, despite the risk for firefighters, military and airport personnel, information and warnings have been withheld for decades.
AFFF was commercially introduced in the mid-1960s, and became widely used by firefighting organizations and at military bases.
By the end of the 1960s, animal toxicity testing found that exposure to PFAS chemicals in AFFF products resulted in adverse health effects among laboratory animals, including toxic side effects to testicles, liver, adrenals and other organs.
By the end of the 1970s, additional research found that the unique chemical structure may cause PFAS used in AFFF to bind to proteins in the blood of animals and humans exposed to the material, which can remain and persist over long periods of time. Although it was known that the AFFF chemicals may accumulate in the body and blood with each additional exposure, manufacturers continued to market and sell the firefighting foam without adequate warnings and precautions for firefighters.
By the 1980s, researchers had gone as far as to identify the mechanism of action which led to PFAS causing an increased cancer risk.
When regulatory agencies in the U.S., including the Environmental Protection Agency (EPA) raised concerns, many manufacturers reassured them there was no risk of adverse health effects or environmental damage from AFFF exposure; claims which have largely since been proven false.
By 2010, additional research and testing found multiple potential side effects among workers exposed to PFAS, such as increased cancer incidence, hormone changes, lipid changes and impacts to the thyroid and liver.
By the mid 2010s, an independent science panel determined that human exposure to only 0.05 parts per billion of one PFAS, PFOA, had probable links to kidney cancer, testicular cancer and other disease.
Firefighting Foam Water Contamination Lawsuits
Millions of individuals have also been exposed to Per-and polyfluoroalkyl substances (PFAS) and other toxic chemicals released in to tap water near military bases and other communities.
PFAS Water Contamination Lawsuit
The lawyers at Saiontz & Kirk, P.A. are investigating PFAS water contamination lawsuits for individuals throughout the United States who have been diagnosed with various forms of cancer and other diseases caused by the side effects of toxic PFAS chemicals entering public and private drinking water systems.
To date, over 2,800 locations in the U.S. have confirmed PFAS water contamination in public and private water systems, which include nearly 400 military installations.
Many of the cases are being pursued by residents who lived in communities surrounding PFAS manufacturers, such as 3M and Dupont, or in areas known to have high levels of PFAS contaminated water, such as military bases, airports and other firefighting training locations where toxic chemicals entered the drinking water from AFFF foam run-off.
Camp Lejeune Toxic Water Lawsuit
Camp Lejeune toxic water lawsuits are also being investigated for veterans, their families and contractors who worked or lived at Camp Lejeune and MCAS New River in North Carolina between 1953 and 1987. It is projected that over one million individuals were exposed to contaminated water containing harmful chemicals at levels that were between 200x – 300x higher than what is permitted by environmental safety regulations.
Recent EPA required testing has identified that between 1953 and 1987 the military base Camp Lejeune and nearby Marine Corps Air Station New River suffered from multiple sources of water contamination from firefighting foam run-off, underground chemical and fuel leaks and other sources releasing Trichloroethylene (TCE), Tetrachloroethylene, Vinyl chloride (VC), Benzene and over 70 other hazardous chemicals. Many of which are linked to cancer, birth defects and other serious health issues.
Allegations Raised in Firefighting Foam Class Action Lawsuits
The firefighting foam lawyers at Saiontz & Kirk, P.A. are reviewing both individual AFFF foam lawsuits and AFFF foam class action lawsuits for individuals and families throughout the United States. According to allegations presented in the AFFF litigation, manufacturers have:
Knowingly and recklessly failed to conduct comprehensive studies on the side effects of AFFF and cancer among individuals exposed to the firefighting foam;
Knew or should have known that sale of AFFF containing PFAS would cause contamination of the blood, and bioaccumulation of the cancer-causing chemicals in the body;
Failed to warn fire trainees, military or civilian firefighters, who they knew would foreseeably come into contact with AFFF;
Failed to design firefighting foam to avoid unreasonable risk of harm to firefighters, military servicemembers, airport personnel and others exposed to the chemicals;
Withheld information from firefighters about the importance of protective gear to guard against the known AFFF foam risks;
Failed to issue firefighting foam recalls or safety warnings that would have avoided a cancer from AFFF;
No Fees or Expenses Unless You Receive an AFFF Lawsuit Settlement
Saiontz & Kirk, P.A. is a nationally known law firm that is focused exclusively on representing individuals, we do not represent corporations or insurance companies.
Over the course of nearly 50 years, clients of our law firm have collected more than $1 billion in financial compensation and settlements for cases involving product liability, medical malpractice and other personal injury lawsuits,
All AFFF firefighting foam lawsuits are being investigated by our law firm on a contingency fee basis. There are never any out-of-pocket costs to hire our lawyers, and we receive no fees or expenses unless a recovery is obtained.
Protect your family and find out if you or a loved one may be entitled to an AFFF lawsuit settlement.
CONTACT OUR AFFF FOAM LAWYERS No Fees or Expenses Unless a Recovery is Obtained.
*By submitting, you authorize Saiontz & Kirk, P.A. to send text messages to the numbers provided, including information & offers, possibly using automated technology. Message/data rates apply. Consent is not a condition for acceptance of services.