Review Your Case With Valsartan Cancer Lawyers
Starting in July 2018, the FDA announced a series of nationwide recalls for generic valsartan and valsartan HCTZ, after it was discovered that the pills may be contaminated with an impurity known as N-nitrosodimethylamine (NDMA), which is a known human carcinogen.
It was subsequently discovered that the certain versions of the hypertension drug were contaminated for years, exposing users to an increased risk of cancers as the chemicals travel through the body. The risk of cancer from valsartan may continue for years after last use of the recalled pills.
Financial compensation and settlement benefits may be available for former users throughout the United States who diagnosed with any of the following cancers from valsartan:
Colorectal Cancer
Colon Cancer
Rectal Cancer
Small Intestine Cancer
Intestinal Cancer
Stomach or Gastric Cancer
Liver Cancer
Esophageal Cancer
Prostate Cancer
Bladder Cancer
Non-Hodgkins Lymphoma
Multiple Myeloma
Leukemia
Lung Cancer
The valsartan recall lawyers at Saiontz & Kirk, P.A. are evaluating the potential for individual cancer lawsuits, as well as valsartan class action lawsuits for individuals nationwide who received drugs containing NDMA and developed cancer
All cases are handled by our valsartan recall lawyers on a contingency fee basis, which means that there are no out-of-pocket costs to hire our law firm, and we do not receive any attorney fees or expenses unless you or a loved one obtain a recovery.
Generic Valsartan Problems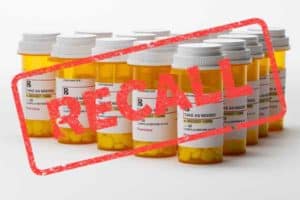 August 2002
Valsartan approved for treatment of hypertension under brand name Diovan
2014
First generic valsartan introduced in the United States
2015-2018
Reports involving valsartan and cancer diagnosed among users surface.
July 2018
FDA and European regulators recall Valsartan distributed by several drug makers.
Valsartan and valsartan HCTZ are hypertension drugs first sold under the brand name Diovan. However, in recent years, prescriptions are typically filled with generic equivalents that are now sold by a number of different drug makers.
Concerns about the link between side effects of valsartan and cancer first emerged in early July 2018, after it was discovered that active ingredients supplied by Zhejiang Huahai Pharmaceuticals in China, tested positive for NDMA, which is known to pose serious health side effects, including an increased risk of cancer.
On July 13, the FDA announced valsartan recalls impacting pills sold by Major Pharmaceuticals, Solco Healthcare, Teva Pharmaceuticals, and Prinston Pharmaceuticals.
A few weeks later, the recall was expanded to include some or all versions of valsartan distributed by certain repackagers, including:
A-S Medication Solutions LLC
AvKARE
RemedyRepack
Bryant Ranch Prepack Inc.
H.J. Harkins Company, Inc.
Lake Erie Medical, doing business as Quality Care Products LLC
NuCare Pharmaceuticals
Proficient Rx
According to FDA investigators, NDMA in valsartan appears to be a byproduct and impurity resulting from the manufacturing process. Evidence suggests that contaminated versions of valsartan have been distributed for at least four years.
Link Between Valsartan and Cancer Side Effects
NDMA has been a known human carcinogen since at least 2005. The EPA has set a maximum daily limit of 96 nanograms of NDMA per day. However, recalled valsartan pills may have had levels of NDMA that exceed those safe limits, according to the FDA.
It appears that the manufacturers of generic valsartan failed to conduct adequate testing to ensure that the drugs were safe for consumers, potentially exposing them to a cancer-causing agent for years.
The impurity NDMA found in generic valsartan pills is a known human carcinogen.
The valsartan cancer lawyers at Saiontz & Kirk, P.A. are reviewing potential lawsuits linking the use of these drugs to liver cancer, kidney cancer, lung cancer and the development of other malignancies.
If you or family member have been diagnosed with cancer, request a free consultation. All valsartan cases are handled on a contingency fee basis, meaning there are never any out-of-pocket expenses and no fees unless a recovery is obtained.
No Fees or Expenses Unless You Receive a Valsartan Settlement
Saiontz & Kirk, P.A. is a nationally known injury law firm that is focused exclusively on representing individuals, we do not represent corporations or insurance companies.
Over the course of more than 40 years, our personal injury lawyers have collected more than $1 billion in compensation for our clients in cases of medical malpractice, automobile accidents, product liability and other personal injury lawsuits.
All valsartan cancer lawsuits will be handled by our attorneys on a contingency fee basis, which means that there are never any out-of-pocket expenses to hire our law firm and we only receive a fee if compensation is secured for our client.
Protect your family and find out if you or a loved one may be eligible for a valsartan injury lawsuit. Request a free consultation and case evaluation.
CONTACT OUR VALSARTAN LAWYERS No Fees or Expenses Unless a Recovery is Obtained.
*By submitting, you authorize Saiontz & Kirk, P.A. to send text messages to the numbers provided, including information & offers, possibly using automated technology. Message/data rates apply. Consent is not a condition for acceptance of services.