Nexium Kidney Risks Come as Surprise for Users Due to Lack of Warnings
Millions of individuals have used Nexium, Prilosec and other popular heartburn drugs in recent years, believing the medications to be safe. However, information continues to emerge that highlights serious kidney risks associated with the medications, including a risk of kidney failure, kidney disease and other kidney injuries.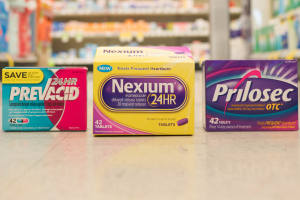 Suffered a Kidney Injury?
The lawyers at Saiontz & Kirk, P.A. are reviewing potential Nexium lawsuits, Prilosec lawsuits and other claims over similar acid reflux drug kidney risks, which were not adequately disclosed to consumers and the medical community.
Information about the Nexium kidney risks has come as a shock to many individuals contacting our law firm in recent weeks, but it clearly appears that AstraZeneca and other drug makers knew, or certainly should have known, about these problems for years.
As a result of this apparent decision to place the desire for profits before the safety and health of millions of Americans, financial compensation may be available.
Nexium Kidney Problems
Nexium, Prilosec, Prevacid, Protonix, Dexilant and AcipHex are all members of a class of heartburn medications known as proton pump inhibitors (PPIs). They have been among the top-selling drugs in the United States for years, and many are now widely available over-the-counter for treatment of acid reflux, GERD and other stomach ailments.
The medications are widely promoted and many users and medical providers have believed they are safe and carry few long-term health risks. As a result, many people remain on the drugs for years and years, potentially increasing the risk of kidney injury or other problems.
In 2014, the FDA required a number of label warnings be added to the drugs about the risk of acute interstitial nephritis, a form of kidney inflammation linked to the drugs. However, more recent studies have revealed that the drugs could also lead to chronic kidney disease and kidney failure, which could require users to undergo dialysis or could even lead to death.
In April 2015, a study published in CMAJ Open warned that the side effects of Nexium and similar drugs could cause an abrupt loss of kidney function, known as acute kidney injury.
Those findings were followed by a study published earlier this year in the medical journal JAMA Internal Medicine, which found that the medications may also increase the risk of chronic kidney disease, or CKD.
Last month, yet another study was published that highlights the kidney risks with Nexium, Prilosec and other PPIs. In the April 2016 issue of the Journal of the American Society of Nephrology, researchers indicated that use of the drugs may increase the risk of kidney failure by 96% when compared to other heartburn treatments that are not proton pump inhibitors. They also found a 28% increased risk of chronic kidney disease.
Nexium Kidney Injury Lawyers
The product liability lawyers at Saiontz & Kirk, P.A. provide free consultations and claim evaluations for users of Nexium, Prilosec, Prevacid, Protonix, Dexilant, AcipHex and other heartburn medications who have concerns about whether they may have suffered a kidney injury from these medications.
As a result of the manufacturers' failure to adequately warn consumers and the medical community, financial compensation may be available for individuals diagnosed with:
Acute Interstitial Nephritis (AIN)
Acute Kidney Injury (AKI)
Chronic Kidney Disease (CKD)
Kidney Failure Resulting in Dialysis, Transplant Surgery or Other Treatment
All cases are being pursued by our law firm under a contingency fee agreement, which mean that there are no out-of-pocket costs to hire our lawyers and we receive no attorney fees or expenses unless a recovery is obtained.