Alternatives to Nexium, Prilosec and Other Proton Pump Inhibitors (PPI) May Have Allowed Individuals to Avoid Kidney Side Effects
Recent research suggests that millions of heartburn sufferers may have unnecessarily exposed themselves to serious kidney side effects from proton pump inhibitors (PPI), even though safer alternatives to Nexium, Prilosec, Protonix, Prevacid, Dexilant and other similar drugs were available that do not carry the same risks.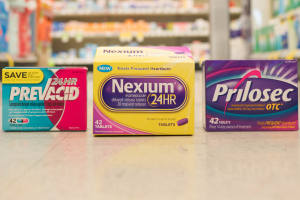 The lawyers at Saiontz & Kirk, P.A. are currently pursuing Nexium lawsuits, Prilosec lawsuits, Protonix lawsuits, Prevacid lawsuits, Dexilant lawsuits and other claims for users of PPI medications who have been diagnosed with:
Acute Interstitial Nephritis
Acute Kidney Injury
Chronic Kidney Disease
Kidney Failure
As a result of the drug makers' failure to adequately warn about the kidney side effects, consumers and the medical community have been misled to believe that the medications are safe and carry few adverse risks, often staying on the drugs for long periods of time without any effort to reduce use or eliminate the need for the medications.
If warnings had been provided, Nexium alternatives may have been used to address the heartburn or acid reflux condition, without exposing individuals to a risk of life-changing kidney problems.
Nexium Alternatives
Nexium and other proton pump inhibitors are used by more than 15 million Americans each year, generating more than $10 billion in sales in 2013 alone. However, a number of studies have linked the drugs to an increased risk of kidney injury, kidney disease and kidney failure. Individuals who experienced these problems never would have agreed to take the drugs if they had known about the risks, since safer alternatives were available.
Another class of heartburn drugs, known as histamine H2 receptor agonists, or H2 blockers, have been marketed for decades to treat symptoms of heartburn, yet they do not carry the same kidney risks. This class includes medications like:
Zantac
Pepcid
Tagamet
Tazac
Axid
and Others
These drugs were first introduced in the 1960s, working to prevent the production of stomach acid. Although the medications address symptoms faster and provide a safer alternative to Nexium, Prilosec and other PPIs, sales of H2 blockers plummeted amid aggressive marketing by PPI drug makers in recent years.
In addition to H2 blockers, over-the-counter calcium carbonate remedy tablets may have been able to address symptoms and problems of many heart burn sufferers who have been taking Nexium or Prilosec for years. First introduced in the 1930s, these products include antacids like:
Maalox
Rolaids
Tums
Mylanta
and Other Antacids
Many individuals also may have been able to address heartburn symptoms through life-style changes, without using prescription treatments like Nexium and Prilosec, if they had known the risks. Alternative life-style recommendations to improve heartburn symptoms often include:
Avoiding meals within 2-3 hours of going to bed
Reduce size of meals to avoid overeating
Slowing down when eating
Staying away from heartburn trigger foods
Quitting smoking and avoiding alcohol
Elevating the head of your bed while sleeping
and other life-style changes
Kidney Side Effect Lawsuits
The lawyers at Saiontz & Kirk, P.A. are reviewing potential lawsuits for individuals who have suffered kidney damage, kidney disease or kidney failure, which may have been avoided if alternatives to Nexium, Prilosec, Protonix, Prevacid, Dexilant or other PPIs had been considered.
The manufacturers of these drugs knew or should have known that their heartburn medications led to an increased risk of kidney damage, yet withheld this information from consumers and the medical community, depriving individuals from making an informed and educated decision about whether the benefits justify the potential kidney side effects.
If you, a friend, or family member has suffered kidney damage or kidney failure after the use of a proton pump inhibitor, request a free consultation and claim evaluation. All claims are handled on a contingency fee basis, meaning our attorneys are only paid if a recovery is obtained and there are never any out-of-pocket expenses.