Hair Relaxers and Cancer Risk: Do perms and relaxers cause cancer?
Have you ever worried about the safety of hair relaxers and perms?
No one wants to think that their beauty routine could be putting them at risk of cancer. But that's exactly what many researchers now believe has been happening for decades to women who regularly use hair relaxers like:
Dark & Lovely
ORS Olive Oil
TCB Naturals
Just for Me
Motions
Optimum Salon
African Pride Dream Kids
and other Chemical Straighteners
In fact, recent studies have shown that these hair straightening products contain hundreds of toxic chemicals, many of which are already known to cause cancer.
In this post we'll take a closer look at the science behind how hair relaxers cause cancer, and which types of cancer they can cause.
Hair relaxer lawsuits are currently being investigated by our law firm for women who have been diagnosed with uterine cancer or breast cancer after regular use of hair relaxer products.
If you have questions or want to review the specifics of a potential hair relaxer cancer claim with our lawyers and find out whether you may be eligible for a settlement, request a free consultation and claim evaluation.
Cancer Causing Chemicals Used In Hair Relaxers
Hair straighteners work by breaking down the protein bonds found in the hair shaft. Once the protein bonds are broken down by the chemical reaction, the hair will become loose and can be reformed into a flatter shape. The chemicals in hair straightening products are extremely potent, like lye and formaldehyde.
If you have ever used a hair relaxer before, you have probably noticed the strong odor and irritation caused by the gas, you may have even suffered burns on your scalp. This is a result of the use of these potent chemicals.
So why do hair relaxer manufacturers use such toxic chemicals in their products? The answer is simple: because they can. The chemicals used are very effective at straightening hair, and marketing has led women to believe hair straighteners are safe. However, new evidence about the link between hair relaxer and cancer is too severe to ignore.
The FDA prohibits the marketing or sale of cosmetic products from containing poisonous or harmful substances that could cause injury to a consumer. However, most hair relaxers do not need to be tested or approved by FDA before they are sold.
L'Oreal, Namaste, Revlon Strength of Nature and other hair relaxer manufacturers have withheld or omitted toxic ingredients from their ingredient labels and failed to warn about the risk of cancer.
Some of the biggest offenders found in hair straightening products include:
Formaldehyde
Parabens
Phalatates
Di-2-ethylhexylphthalate (DEHP)
Formaldehyde in Hair Relaxer
Many chemical hair straighteners contain formaldehyde or release formaldehyde gas as part of the chemical reaction process. Formaldehyde gas has a strong chemical odor and inhalation can cause severe irritation, respiratory issues, headaches and burns.
It can appear as formaldehyde, formalin, or methylene glycol on an ingredient label (or sometimes it is omitted altogether, and there is no indication that your hair relaxer contains formaldehyde).
Formaldehyde is an extremely toxic chemical and is known to cause cancer. You might recognize it as the chemical used in embalming fluid.
OSHA requires businesses that work with formaldehyde (ex: science labs, funeral homes, chemical storage warehouses) to place warning signs, however these cancer warning signs are noticeably absent from beauty salons.
Parabens in Hair Relaxer
Parabens are a type of preservative that is often used in cosmetics and hair smoothing products. Parabens are considered an endocrine disruptor (EDC). Several studies show that parabens may mimic estrogen and, as a result, increase risk of breast cancer cell growth.
Phalatates and EDCs in Hair Relaxer
Phthalates are another type of chemical that can be found in hair relaxers. They are a type of plasticizer, and they are used to make products more flexible and durable. Phthalates are endocrine disruptors (EDCs) that can affect natural hormone production.
Many of the permanent straightening products also included a particularly dangerous phthalate called Di-2-ethylhexylphthalate (DEHP). DEHP is considered a carcinogen and it is known to cause severe problems including: endometriosis, reproductive issues, and infertility, and various cancers.
Do Hair Relaxers cause cancer?
Manufacturers continue to deny that at-home hair relaxers cause cancer. However, many of the chemicals that are used in relaxers are known to be cancerous (including formaldehyde, parabens and phthalates) and several studies show that there is an increased risk of uterine cancer and breast cancer from frequent hair straightening use.
The basis of the hair relaxer lawsuit is to show that the manufacturers knew about the potential risks of cancer, but failed to warn about them.
Do Perms cause cancer?
Getting a straight perm at the salon carries a similar cancer risk as using at-home hair straightener products. Many of the same cancer-causing chemicals are used during hair smoothing treatments at the salon. This includes keratin treatments, Brazilian blowouts and Japanese hair smoothing treatments.
Using a trained beauty technician may reduce the risk of chemical burns and a well ventilated salon may reduce the risk of inhaling toxic gas vs. doing a hair relaxer treatment at home.
If you are concerned about the risk of cancer, the only way to completely avoid it would be to discontinue getting hair relaxer treatments or perms of any kind.
What Types Of Cancer Do Hair Relaxers Cause?
Over the years there have been multiple studies that identified two types of cancer associated with the use of hair relaxer treatments, uterine cancer and breast cancer.
The Sister study conducted by the National Institute of Environmental Health Sciences (NIEHS) found that women who frequently used hair relaxer treatments had a;
156% increased Uterine Cancer risk
30% increased Breast Cancer risk
How Do Hair Relaxers Cause Cancer?
We already have established that perms and hair relaxer products contain known cancer causing chemicals and endocrine disruptors (EDCs), but how exactly do they work?
The chemicals found in hair relaxers can be absorbed by the body in two ways:
Inhalation from the toxic fumes
Direct absorption from the skin
Hair straightener chemicals absorbed through the skin
The skin acts as a protective barrier, but some chemicals are still able to be absorbed by the skin and into the bloodstream. Unfortunately there are two factors that cause hair relaxer chemicals to be more readily absorbed.
1. The blood vessels in the scalp are much closer to the surface of the skin compared to the rest of the body. It also carries more blood than the rest of your skin, making it much easier for chemicals to be absorbed. Have you ever wondered why head wounds bleed so much?…This is the reason.
2. Scalp burns increase the amount of chemicals absorbed into the bloodstream. Scalp burns happen all the time whether you are using an at-home hair relaxer or getting a perm at the salon. When you get a scalp burn from a hair relaxer, the protective skin barrier is destroyed and gives the chemicals a direct line to be absorbed into your blood vessels.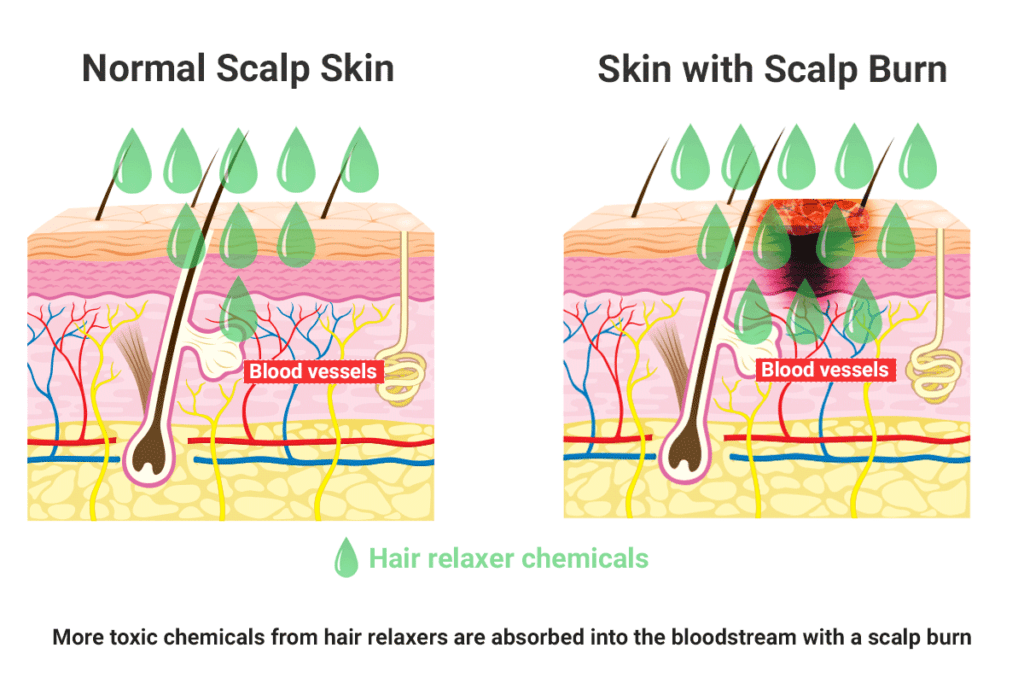 How do the chemicals in hair relaxer actually cause cancer?
It is widely known that chemicals like formaldehyde, phthalates and parabens are linked to cancer, but the exact mechanism of how they cause cancer is still being researched.
All of these chemicals are considered endocrine disruptors (EDCs). This means they can disrupt the natural production of hormones which are responsible for a number of critical functions in the body including:
Signaling cell growth
Reproduction
Controlling the immune and nervous systems
The prevailing theory is that endocrine disrupting chemicals can cause cancer cells to grow more rapidly, especially within organs that are part of the female reproductive system or heavily affected by hormone imbalances. This would certainly explain why there is much a higher risk in both uterine cancer and breast cancer for people that use hair relaxer.
Hair Relaxer Cancer Settlements May Be Available
As a result of the manufacturers' failure to warn about the link between hair relaxers and cancer, settlements may be available for women diagnosed with uterine cancer or breast cancer.
Hair relaxer settlements are also being pursued for women who developed uterine fibroids, resulting in surgical removal or a hysterectomy.
Manufacturers had a duty to research the side effects of hair relaxers, and warn about any potential cancer risks, so that women could make an informed decision about whether to expose themselves to cancer-causing chemicals in hair relaxers and perms.
Hair relaxers have been aggressively marketed toward Black consumers for decades, generating billions in annual revenue. These products have been promoted as safe, since no woman would knowingly expose themselves to an increased risk of cancer from a hair relaxer or straightener.
If you or a loved one developed uterine cancer or breast cancer or had a hysterectomy after using hair relaxer or chemical straightener, you may be eligible for a settlement.
Even if you just have questions about the hair relaxer lawsuit, we are here to help. You can give us a call at 1-800-522-0102 or schedule a free consultation below.